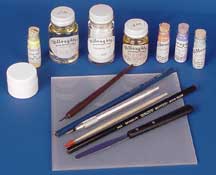 Description of Medias Below
| | |
| --- | --- |
| PRICES AS OF 2022 | SUBJECT TO CHANGE |
Size
Media

Price

Size
Media
Price
1 Ounce

Media #1

5.95

1/2 Ounce

Oil of Lavender (pure)

6.50

1 Ounce
Media #2
8.25
1/2 Ounce

Enamel Media

4.95

1 Ounce

Media #3

9.50

1/2 Ounce

Pen Oil

6.75

1 Ounce

Media #4

8.25
1/2 Ounce

Fat Oil

4.95

1 Ounce

Media #5

8.75

1/2 Ounce

Oil of clove (Pure)

5.95

1 Ounce

Media #6

7.15

1/2 Ounce

Media for Raised Paste

5.50

1 Ounce

Mixing Media
6.50

1 Ounce

Grounding Oil

7.25

1 Ounce

Balsam of Copaiba – thin

9.95
1 Ounc

e

Balsam

of Copaiba – thick
9.50

1

Ounce

Oil of Lavender (imitation)

7.95
1 Ounce

Mineral Oil

4.50

1 Ounce

Pure Gum Turpentine

4.50
PRICES SUBJECT TO CHANGE WITHOUT NOTICE
Willoughby's description of MEDIA and OIL'S
MEDIA
#1 Excellent for mixing and painting. Dries at a medium speed, favored by the advanced and novice artist. Medium heavy-bodied oil.
#2 Often used to lay in backgrounds, a perfect tinting oil. Dries a bit faster than Media #1. Excellent painting medium for china and glass.
May be used to dry dust.
Will allow heavy color to be applied to ware. Medium heavy oil, but lighter than Media #1 in weight.
#3 Highly recommended as a general painting medium for the novice and for the advanced student. Dries hard overnight.
A light-bodied medium with average drying time.
#4 A heavy-bodied medium, dries faster than the above media. Good for dusting and tinting on both china and glass.
#5 Heavier than the average medium. Excellent for the advanced artist.
#6. The fastest drying of all the media. Excellent for the "wipe out" technique. Dries hard.
MIXING MEDIA:
A medium to grind the powdered paints to be placed on the palette. Will hold the colors "open" for an indefinite time.
Will not cause the mounds of color to run. A non-magnetic oil. Will not cause the colors to fade during firing.
Will blend with the above media. Will not blend with fat oil of turpentine products.
OIL OF LAVENDER (Pure):
Generally used as a thinning agent in oils and media. A drying agent. Excellent for use as the medium for bisque painting.
Widespread use in thinning of luster and gold.
OIL OF LAVENDER (Imitation):
Use as a medium for painting on bisque ware. Often used for thinning media and oils. Do not use with luster or golds.
Lower in cost and dries slower than pure lavender oil.
OIL OF CLOVES (Pure):
Generally used to hold the paint open." Slows the drying time of media and oils. A thinning agent, will dry hard.
FRENCH FAT OIL:
A heavy-bodied medium used for general painting, tinting and dusting.
BALSAM OF COPAIBA (Thin):
A light-bodied medium used for a general painting medium. Often the base for other painting media. May be used
for dusting and tinting. Dries hard.
BALSAM OF COPAIBA (Thick):
Very heavy-bodied medium, may be thinned for general use with oil of lavender. Oil of cloves will hold this oil open longer.
Used for grounding and tinting in its pure form. Often a base for other media. Dries hard.
MEDIA FOR RAISED GOLD:
A mixing medium for the raised gold paste or the raised gold powders. Mix the paste with the medium to a dry putty
condition and thin with pure gum turpentine to the proper consistency to apply to the ware.
PEN OIL:
An agent to thin the mound of paint from the palette to an ink type of paint. To outline or to draw in designs on ware with a
Crow quill pen. Will dry rapidly.Excellent "flowing" quality.
ENAMEL MEDIA:
A medium to mix the enamel powder into A dry putty form. Thin with pure gum turpentine to the proper consistency and apply to the
ware with turpentine as the medium. Allow to dry before firing.
GROUNDING OIL:
Excellent for dry dusting and ground laying of colors. Used on glazed or un glazed wares. Dries very rapidly.



Last updated 03/2022
Customer Service: (425)743-1591 – Mon – Fri. 10:00 – 4:00 pst
Email: [email protected]
6329-176th St. SW
Lynnwood, WA 98037
Web Site created By: